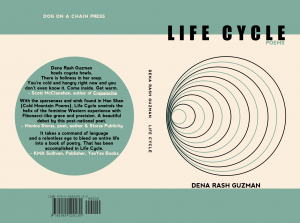 The poetry and stories of Dena Rash Guzman should be no stranger to anyone who's followed links of literary delight to/on Haliterature.com or Unshod Quills (among many other publications). From the wry, the whimsical, the titillating, this lady's got a way with words.
Her collection of poems, Life Cycle, is now on sale at Powell's Books, where it's made its way up the top-seller chart, and at St. Johns Booksellers.
Expect Life Cycle in Asia soon via H.A.L. Publishing.