EVENTS
Upcoming events
Keep an eye out here for upcoming HAL events!

2014
Shanghai Burning Man Decompression: An escape from the regular world and a glimpse into Burning Man culture. H.A.L. was on hand for literary shenanigans.
2012
H.A.L. LiT (June 28): A free evening of performance, poetry, readings, storytelling, Accidental Chinese Hipsters and more! (at YinYang – Nanchang Lu/Maoming Lu)
H.A.L. LiT — An evening of storytelling, video poetry, readings and more; head down underground with the folks from HAL in YY's basement for the first bi-monthly LiT.
Shanghai Tunnels —HAL and sister stateside group Unshod Quills put together an evening of video poetry with poet-filmakers from around the world. Separate screenings were held at the Rabbit Hole, Shanghai and Jack London Bar, Portland, Oregon, USA.
2011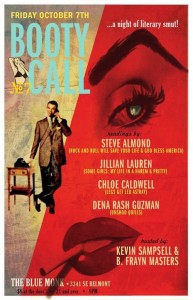 SLAMHAI3 — SLAMHAI returns to Shanghai with new poets facing off on stage, a performance of Dena Rash Guzman's "Dan Orange" and HAL's newest collection of short stories, Middle Kingdom Underground. Watch SLAMHAI3 at Vimeo.
Booty Call, Portland, Oregon, USA — HAL author and Judges Prize winner at the Shanghai Erotic Fiction competition, Portlander Dena Rash Guzman read her selection from HAL's upcoming second anthology at Kevin Sampsell's occasional reading series Booty Call. Also reading were NYT bestselling authors Steve Almond and Jillian Lauren, and Pushcart Prize nominee Chloe Caldwell, each in Portland for its literary festival, Wordstock, or on book tours.
Girls On Top — An evening of slam poetry from the ladies of HAL along with headline slam poet Kelly Zen-Yie Tsai at the Rabbit Hole, Shanghai.
Readings from the people's republic of — Writers from HAL's first story collection, Party Like It's 1984: stories from the people's republic of, gathered to read selections from their stories at Garden Books, Shanghai.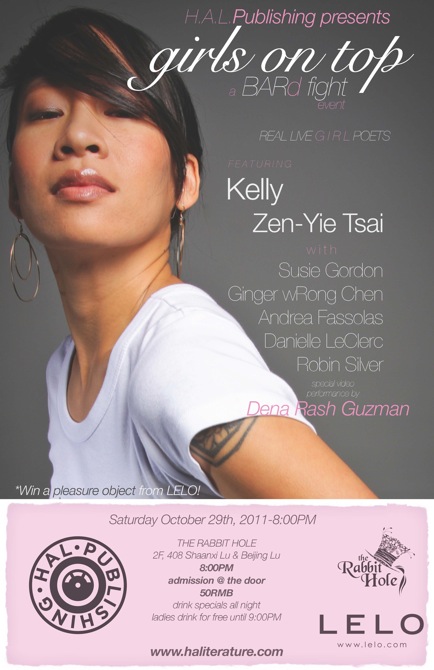 SLAM Theatre: HAL and SRT (Shanghai Repertory Theater) joined forces to lock five groups of writers together at the Ke Theatre overnight to produce five one-act plays performed the following evening.
Shanghai BARd Fight: Vicious Flash Fiction, Bare-Knuckle Poetry Slam, Rap Battle — HAL brought fiction and poetry readers (and freestyle rappers) into three Shanghai bars for a series of more intimate events as part of the JUE Festival.
HAL + MALA = Chengdu Literary Fest Poetry Slam — HAL took to Chengdu along with their local writers' group for an evening of  slam poetry as part of the Chengdu Bookworm Lit Fest.
Shanghai Erotic Fiction — The Bund got turned on with some saucy stories.
2010
SLAMHAI, Round II — New poets, new stage, new book.
SLAMHAI — The first of HAL's Shanghai-based poetry slams.