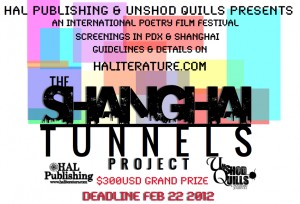 In 2012, H.A.L. Publishing of Shanghai, China and its sister site, Unshod Quills of Portland, Oregon, teamed up with Monica Storss of Portland, Oregon and China's JUE Arts and Music Festival to produce the first China-US based video poetry festival. Submissions were sought and sent from all over the world. A panel of four officers with the Shanghai Tunnels Project prescreened the videos, selecting those for judging that most met their definition of video poetry.  If you're viewing this from the PRC, you'll need a VPN to view the YouTube links (some are on Vimeo).
Shanghai Tunnels Project
International Video Poetry Festival
$300 Grand Prize
in association with China's
JUE Arts + Music Festival
Portland, Oregon – Shanghai, China
March 15 – 19, 2012
Screening: March 15 The Rabbit Hole, Shanghai
Screening: March 19, The Jack London, Portland
Unshod Quills, Monica Storss and HAL Publishing present
the finalists, prizewinners and a special entry
to this historic, international, transPacific
poetry festival.
Judges: Tammy Ho Lai-Ming, Cha; Kevin Sampsell, Future Tense Books,
Mike Tsang, Penguin Books China, B Frayn Masters, Back Fence PDX;
Alex Pearson, Beijing Bookworm Literary Festival
Judges Choice for Grand Prize

"History of a Future"
Renee Reynolds – Olivier Wyart
Shanghai, China
Renée Reynolds is a freelance writer from Chicago living and working in Shanghai since 2007. Olivier Wyart is a freelance designer from Paris living and working in Shanghai since 2009. The poem was compiled over the course of five years in China by an American expatriate scribbling in the subways of Shanghai. The video ventures to visually straddle the mishmash of East, West, history and future colliding in the text.
Portland, Oregon Sponsors Choice Award

"The Last Thing He Said"
Josh Fernandez & Carlos Amaya
Sacremento, California
Josh Fernandez lives in Sacramento where he writes for Spin.com, Boulder Weekly, San Antonio Current and the Sacramento News and Review. He was nominated for a Pushcart Prize for his poem "The Last Thing He Said." Fernandez's collection of poems, Spare Parts and Dismemberment, was published by R.L. Crow in May, 2011.
Portland, Oregon Audience Choice Award

"Fight the Power"
Andrea Hope – Gordon Wilson – David Linde
Portland, Oregon – Oregon City, Oregon – Seattle, Washington
Andrea Hope uses spoken word as one of many outlets to promote social consciousness and community building. You can find her biking in dresses, hosting couch surfers, teaching art, saying prayers and hugging trees. She is a member of the Sparrow Ghost Collective and co-administrator of the Portland Poets Exchange.
Shanghai, China Audience Choice Award

"Morning Commute"
Darcy Fisher – Stephen Koh – Salome Yuan
Shanghai, China
Darcy is a poet and teacher who has lived in Shanghai, China for three years. She is from Bloomington, Indiana, USA.
Wenderoth Award for Excellence in Video Poetry

"Perhaps You See Where I Am Heading"
Michael Earl Craig and Dalton C. Brink
Montana
Awarded by Joe Wenderoth
Poet Michael Earl Craig's most recent books are Thin Kimono (Wave Books) and Jombang Jet (Factory Hollow Press). He lives near Livingston, Montana where he works as a professional farrier. Dalton C. Brink is an author, painter, filmmaker, and musician, as well founder of the The Cottonwood Club where he lives in Bozeman, Montana.

All other finalists, by region
North America
"Crystal Cat"
Robert Duncan Gray
Portland, Oregon
Robert Duncan Gray is an Englishman who grew up in the Black Forest of southwest Germany and currently lives and works in Portland, OR. He is an editor for Housefire Publishing.
"Your Limbs Will Be Torn Off In a Farm Accident"
Zachary Schomburg
Portland, Oregon
Zachary Schomburg is the author of three books of poetry: Fjords (Black Ocean, 2012), Scary, No Scary (Black Ocean, 2009) and The Man Suit (Black Ocean, 2007). A DVD of poem-films, Little Blind Thing, was published by Poor Claudia in 2010. He edits Octopus Books and lives in Portland, OR.
"Underground"
Air Woodbury – Blair Dykes – Matt Reed – Mark Cernigoj
Portland, Oregon – Vancouver, British Columbia, Canada
Blair Dykes is No One Famous. Based in Vancouver, BC, he makes the kind of films that aren't seen very often — something he hopes to change this by entering "Underground" in the Shanghai Tunnels Project, a film made in collaboration with the Portland, OR poet, Air Woodbury.
"Eve Without Apples"
Lani Jo Leigh
Portland, Oregon
In 2001 Lani Jo Leigh picked up a video camera for the first time during travels to Antarctica. She's been filming ever since. Her other creative outlet is writing, especially poetry.
"Left Villain Prototype"
Jacques Korn, Alex Oyung and Catvonhaufecooper
Sausalito, California
Jacques Korn is a filmmaker and poet who has been directing his movie in high-definition video since his move from New York City to the Bay Area. He works independently on low budgets projects with a small crew. He specializes in narrative short and long features.
"The Color of Dirt"
Posie Currin
Portland, Oregon
Emilie-Rose Currin is a Portland multidisciplinary artists, musician and educator. Currin's artwork converges video, sculpture, sound, performance and installation to create altered environments taking liberties with aleatoricism, alchemy and balance. Her ongoing inquiry explores the potential of artistic collaboration and the momentary disintegration of authorship in improvisational performances that generate conversations about engagement.
Europe
"Georgian Toilet Paper"
Fork Burke – Sophie Hofer
Biel-Bienne, Switzerland
Fork Burke`s poems have appeared in Hoezo Lepels?, PRAXILLA, Lyre Lyre, and Maintenant. Licking Glass (2010) is a book of poems poetic essays and other images. Recordings include Fork Remixed. She received her BA in Creative Writing in 2008 from The New School and currently lives and writes in Switzerland.
Asia
"Ink"
David Foote
Shanghai, China
David is a playwright and anthropologist currently doing field research for his PhD into the Western expat community in Shanghai. Much of his creative output is therefore a product of procrastination, a pursuit in which he is expert.
"Parcels of Me"
Barbara Anderlič
Shanghai, China
Slovenian-born translator Barbara mostly converses in foreign tongues, acts on stage and sometimes writes. She's called Shanghai home for the past year and a half and really likes the Chinese word for typewriter — daziji (the great hit/character/machine) – but hasn't made it to the Typewriter Museum.
Special Thanks to:
The artists who submitted their moving poems to the Shanghai Tunnels Project
___________________________________________________________
Sponsors
______
JUE Arts Festival
, Shanghai and Beijing, China
Maidenhair Productions, Portland, Oregon
________________________________________________
Special thanks to Wendy Ellis of Unshod Quills and Miller Wey of H.A.L. Publishing
for their support and hard work in relation to this project.
___________________________________________________________
Judges
_____
Alex Pearson (Founder, Bookworm International Literary Festival)
B Frayn Masters (Producer, Back Fence PDX)
Joe Wenderoth (Author, Letters To Wendy's)
Kevin Sampsell (Publisher, Future Tense Publishing)
Mike Tsang (Editor, Penguin Books China)
Tammy Ho Lai-Ming (Editor, Cha: An Asian Literary Journal)
____________________________________________
Shanghai Tunnels Project International Video Poetry Festival
March 15 – 19, 2012
Portland – Shanghai
______________
Best wishes from:
Bjorn Wahlstrom, Founder – H.A.L. Publishing, Shanghai China
W.M. Butler – Creative Director & Partner – H.A.L. Publishing, Shanghai China
Monica Storss – Monica Storss Publicity, Portland, Oregon
Dena Rash Guzman, Founding Editor – Unshod Quills, Portland, Oregon
& Managing Director North America – HAL Publishing, Shanghai
The Shanghai Tunnels Project