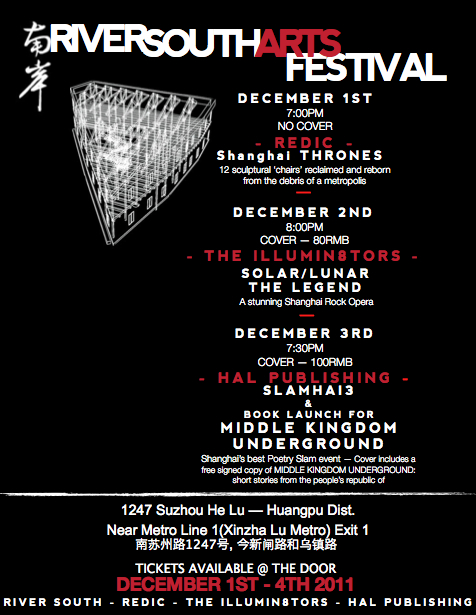 HALITERATURE BOOK LAUNCH
AND RIVER SOUTH ARTS FESTIVAL
Hear all about this Event on the That's Shanghai: The Podcast (H.A.L. interview 23:30min into podcast)
More details after the jump….
What?
Four decadent nights of vibrant independently produced visual art, music, and live action literature, followed by a hangover brunch.
Where?
1247 Nan Suzhou Lu
南苏州路1247号, 今新闸路和乌镇路.
Shanghai
Who and When?
– Thursday – Dec. 1
Redic Thrones
This LA artist and musician brings to Shanghai his soulful sound and an instillation of his handmade thrones, each created using the salvaged excess of the city's legendary opulence. Redic's exhibit will remain on display at RSAC Dec. 1 – Dec. 15.
– Friday- Dec. 2
Illumin8tors
Shanghai's lauded visual and musical performance collective performs "Solar/Lunar" – a China based avant garde rock opera featuring performers from around the globe and to include the Illumin8tors very own Jade Rabbit.
-Special Guest-
Hello Money – inventive local Shanghai band.
Also, tonight features "History of a Future," a collaboration between one of HAL's best authors, Renee Reynolds, and musician Becca Smith.
Saturday – Dec. 3
Haliterature
As always, HAL brings you a night of original literary performance along with film, ink on paper and music.
– Book Launch –
Released tonight, Dec. 3 is the much anticipated title Middle Kingdom Underground – 13 Stories From the People's Republic of, HAL's second release.
-Slamhai3 –
HAL brings on the third installment of SLAMHAI, wherein the city's best poets battle it out team style until only one is left standing. On the spot poetry born before your very eyes and told by Shanghai's most talented tellers of verse. It's a literary Thunderdome. Previous winners: WM Butler and Susie Gordon. Whose lines will Occupy River South? Find out.
– Special Guest –
HAL will be flying Dena Rash Guzman all the way from Portland, Oregon, USA to bring on an eye-pleasing, multi-media, nearly all girl, group spoken word rendition of her short story about panties and their relationship to one man via many women – "A Brief History of Dan Orange of Shanghai." Expect to see the panties fly.
-Music-
Finally, DJ Ben Thriller spins late into the literary ever after.
– Sunday- Dec. 4
Artists Hangover Brunch
Join Shanghai's brightest and bleariest-eyed creative types for a long, slow lazy brunch at River South. Some of the weekend's featured performers will give it another go on stage, and the audience is invited up as well: it's an open mic.
Why?
HAL loves you, baby.