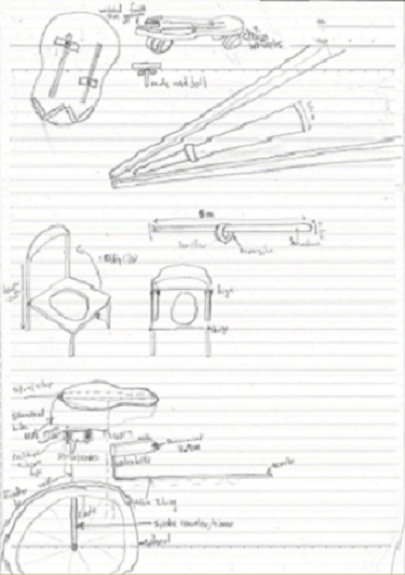 The Third Chopstick
A short story by Danielle LeClerc
To: annelsmith@hotmail.com
Thursday, May 13, 3:22am
From: Walt.is.cool@gmail.com
Subject: 489 Wanping Street
Dear Mom,
Here's some pics of the new place, not bad eh? A 2 bedroom downtown for
$700, you wouldn't even get half this in Prince Albert.

And how about that view? Pretty great, eh? I'm not saying I don't miss
seeing the Esso station across the schoolyard from my bedroom window, but
this is Shanghai. The stove's a bit weird, the only setting it seems to
have is "inferno"; unlike the shower, which has 2 settings: inferno and
arctic, but I'll figure it out.

 Turns out it was a piece of cake getting the place, the agent set
everything up and sent a really nice girl named Jenny to help me out.
She's really sweet, you'd like her. Anyway, I'm officially settled now, so
you don't have anything to worry about. And yes, I'm eating well, they've got
this thing here called "Sherpa's" where they deliver really good healthy food
to your house pretty much any time of day.

Don't worry about me. I'm 34, I'll be fine.

Say hi to Dad.
Love,

Walter
* * *
To: annelsmith@hotmail.com
Friday, May 20, 4:51am
From: Walt.is.cool@gmail.com
Subject: Stuff
Dear Mom,
Glad to hear things are well. Nice that you've got someone renting the basement, an extra few hundred bucks can't hurt, and he sounds like a nice guy.
Everything's good in Shanghai, work's buzzing along okay. Turns out IT offices in China are about the same as ones in Canada, a bit less efficient maybe, and the bathroom's are nuts, but all in all not bad. And at least I don't have to smile while they hand me a 27% pay cut because of the "recession". But seriously, these bathrooms, you'd have a heart attack. Pretty much a ceramic hole in the floor, and the actual tank is mounted like 2 feet above your head and there's this long string dangling down the side so you can flush. Hilarious. I wonder how the women use them lol. Just kidding ; )
Yeah, I know cold showers can make you get sick, you've been saying it since I was 2, remember? Don't worry, I fixed it. Got some cheap tools from a little Chinese guy down the street. Big Glasses I call him, mostly because he's got big glasses. Anyway he sells all kinds of hardware, and it's all super cheap. Turns out the gas flow for the water heater wasn't strong enough at low settings to keep the pilot lit, so I changed it out for a thinner bit of pipe and now it works great.
Remember Jenny? The agent? She came over to check and make sure I was settled okay and I showed her. She was really impressed. I'm taking her for dinner next weekend. Thought you'd like to know.
Love,
Walter
* * *
To: annelsmith@hotmail.com
Saturday, May 28, 12:14am
From: Walt.is.cool@gmail.com
Subject: Jenny
Hi Mom,
I thought you'd want to know how my date went. It was great! We went to this Chinese place and she ordered everything, which was great because I couldn't read the menu at all lol. The food was ok, there was lots of stuff, meat, rice, soup, everything was pretty good but the tofu, gross. Jenny ate everything no problem, I was amazed. She's a great girl, so sweet and really pretty. You'd like her. She laughed at me like crazy about my chopsticks though. I thought I did pretty good, but the rice and some of the slippery stuff was pretty tricky. Of course it's easy for her, she's been doing it all her life and she showed off like crazy, even eating soup with them. I've got an idea though. I've been playing with a set of chopsticks and I think with a little tweaking I could really up the ante on a second round of dinner. I'll show her lol.
PS: Glad everything's going well with the new tenant. Is he really a medical intern? Sounds great.
PPS: I fixed the stove.
Love,
Walt
* * *
To: annelsmith@hotmail.com
Sunday, May 29: 11:39pm
From: Walt.is.cool@gmail.com
Subject: The 3rd Chopstick
Hi Mom,
Did you get the pic of the modified chopsticks I made? Pretty cool, huh? See the the third stick sits in the middle of the other two and the little strap anchors it to your middle finger. It's shorter, flatter, and broader than a standard chopstick, but the real genius is it doesn't get in the way of the other two for pinching, but when it comes to scooping up rice or soup, it slides right in to give that necessary extra support. I tried it out in a spicy soup joint up the street from my place. Just a little place where everybody's Chinese, and it was awesome. All these old guys crowded around to check it out. I had no idea what they were saying, but I could tell they were really impressed.
Cheers,
Walt.
* * *
To: annelsmith@hotmail.com
Sunday, July 3: 5:216am
From: Walt.is.cool@gmail.com
Subject: Catching up
Dear Mom,
Sorry, I've been so busy. Thanks for your letters, though! Shanghai's great, hot as Hades, but I'm surviving. I got 2 mini fans and mounted them on modified backpack straps so they'll sit on my shoulders while I'm on the metro. Man, are those trains crowded.
Yeah yeah I've seen Jenny again, she's fine. Loved my 3rd chopstick idea. We had a soup-eating race and I totally won. I hate to admit it but I did my little victory dance right there in the restaurant. You know the one I did that Easter when you and me won the 3 legged race because of the roller skate I invented? Jenny thought it was great though, she's a real sweet girl.
PS: I solved the hole-in-the-ground toilet dilemma. Had to. I ate some dumplings last week, don't know what was in 'em, but you get the point. Anyway, Big Glasses helped me machine a hole into a folding plastic chair. I just keep the thing tucked away behind the file cabinet and when I need it… Well, you know.
Love ya!
Wally.
To: annelsmith@hotmail.com
Sunday, July 31: 5:03am
From: Walt.is.cool@gmail.com
Subject: Update
Dear Mom,
My latest idea is awesome. Remember how I said that it was so crowded on the metro? Well I found these pull-tab inflatable life preservers, the ones where you just pull the tabs and they auto-inflate, like the airplanes have? Anyway, Big Glasses put me in touch with a tailor and this guy helped me install them into a large jacket and pair of pants. So now, I just put 'em in my backpack, and when the train comes, I slip 'em over my regular clothes and pull the tabs: POOF! Instant fat guy. Not only does this give you immediate space and buffering from the constant touching of strangers, but Chinese people seem to instinctively give wide berth to fat people. Pretty elegant, huh?
So your doctor tenant's getting married, huh? What's this guys name? Jim Lewis? Well that's awesome, I'm sure he's a swell guy.
Jenny's fine, I guess. She hasn't called in awhile, but I'm sure I'll hear from her soon.
Wally.
* * *
To: annelsmith@hotmail.com
Sunday, September 18, 4:48am
From: Walt.is.cool@gmail.com
Subject: Idea
Dear Mom,
Wow sounds like Mr. Jim I'm So Perfect 26 Year Old Doctor With The Pretty 23 Year Old Perfect Wife Lewis' Wedding was really really perfect. How nice. Thanks for sending pictures. Don't you know by now not to trust people who's last names are also first names? The guy's probably a sociopath.
Listen, Mom, I really need your support right now. This is it, The Big One. This new idea's gonna make us all rich. I've been talking to Big Glasses and we've worked out a plan. BG knows a guy in Sichuan who's got a factory and it looks like we can manufacture them pretty cheap. Here's the idea:
It's a bicycle/scooter anti-theft device. Basically it's a small bag of water under the seat which connects to a small hose that runs along the shaft of the bike. If you don't enter the code to disarm the system, a stream of water shoots at your crotch after 5 minutes of the bike being in motion. Then, a metal rod which runs through the bike's seat becomes electrified, jolting your "boys" with 18 volts of electricity. It just takes 2 batteries, and sure, you don't get your bike back, but think of the revenge factor! You can install them yourself, and they'll retail for only 50 yuan, with a total production cost of 23 yuan per unit.
Now, don't freak out, but I've quit my job. I had to, I'll have to tour the factory in Sichuan and show them the prototype, how to make it, what's involved etc. I think it'll really make money, and I plan to cut you guys in too. If you and Dad can just wire me $6000 we can flood the streets of Shanghai with these things, and I'll cut you guys in for 40%
So??? What do you think??
Wally