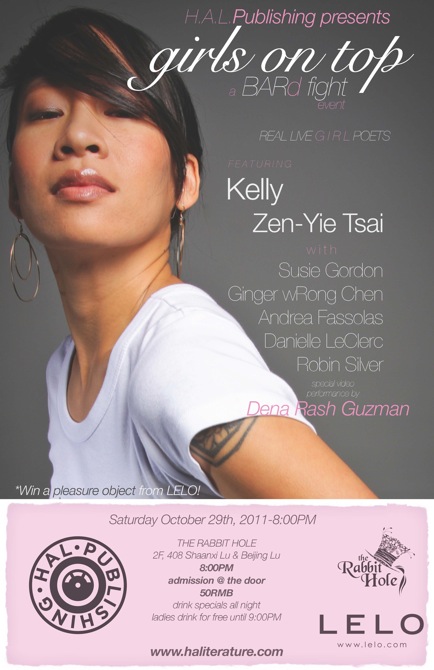 The H.A.L. crew is very proud to present our next feature, Brooklyn-based, bad-ass Chinese Taiwanese American performance poet Ms Kelly Zen-Yie Tsai in  her first ever performance in Shanghai! As part of the infamous HAL BARd Fight series of hard-hitting literary events, we've lined up five of the baddest female poets Shanghai has to offer, including SLAMHAI! winner Susie Gordon and loose canon poet Andrea Fassolas. The evening will also premier the first installment of Shanghai Erotica winner Dena Rash Guzman and Jerimiah Whitlock's film adaptation her story "Dan Orange of Shanghai," along with a  screening of her video poetry created with Viv G. All in all, not an evening for the faint hearted.
We take Girls on Top very seriously, so drinks are free for all early birds (get it?), courtesy of the Rabbit Hole.
The Rabbit Hole (408 Shaanxi Lu/Beijing Lu), 8PM, Saturday Oct 29th.
Kelly Zen-Yie Tsai (察仁义)
Spoken word artist Kelly Zen-Yie Tsai has been featured in over 450 performances worldwide at venues including the Nuyorican Poets Cafe, the House of Blues, the Apollo Theater, Kennedy Center, Lincoln Center, and three seasons of the award-winning "Russell Simmons Presents HBO Def Poetry." The author of Inside Outside Outside Inside (2004), Thought Crimes (2005),No Sugar Please (2008), and the CD's Infinity Breaks (2007) and Further She Wrote (2010), Tsai has shared stages with Mos Def, KRS-One, Sonia Sanchez, Talib Kweli, Erykah Badu, Amiri Baraka, Harry Belafonte, and many more.  (www.yellowgurl.com)
Read about this past event at Shanghai Talk Magazine