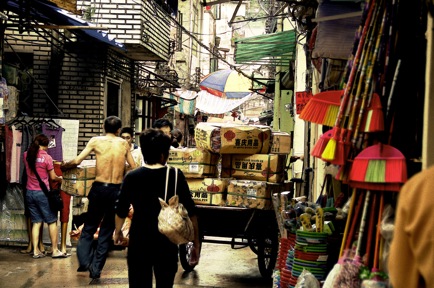 A word from the Editor:
And we're back! HAL has had a troublesome albeit productive September, focusing hard on our forthcoming new release, due in November, and to be celebrated with the first ever (?) Sex, drugs and money-party in Shanghai. Confirmed contributors includes Josh Stenberg, Andrea Fassolas, Timothy Wang, Brian Keane, Dena Rash Guzman of Unshodquills and, inshallah, the elusive Mr Hellowatch. HAL research on the subject matter S, D and M has been somewhat, ahem, distracting, but we're getting there, snowshoes on.
But I digress. We now turn our focus back to our dear digital readers, and as a special Mid-Autumn Festival treat we proudly present you with the first installement of The Empty Map by Mr William Ellis (Biography here). Look forward to part to on September 12th.
Enjoy, and have a great holiday (for the China contingency – we will be thinking of you poor western fans come Monday morning)!
Love
B.
The Empty Maps – Part I
By William Ellis
I met her twelve years ago, in Daci Temple, in central Chengdu. The temple was tumbledown then, and smaller than now. The afternoon was grey, but it was summer, hot and humid. She came up behind me very quietly and tapped me on the shoulder. When I turned, she was standing with her hands clasped in front. Her dark hair was straight and long; she wore a halter top and the kind of short shorts that only Asians can wear without looking like trailer trash. Sandals, a small bag over her shoulder, small nose, pointed chin, pretty face, and very smooth skin, slightly tanned – still rare even now for Chinese women, but that was all: nothing else seemed remarkable then, except her British accent. She said, "my Chinese name is Li Jie, but you may call me Diana".
She told me that she had listened for years, as often as she could, to the BBC – something then illegal. She wanted to practice her English, and wondered if I wanted to learn Chinese. She stood very calmly, smiling in front of me. Behind her rose the main building of the temple: dark walls, swooping roof, tripods smoking with sticks of incense. I had just been inside and hadn't noticed her. It was as if she had materialized from behind the Buddha.

Later, she told me she had noticed me because of my blond hair. I had much more of it then, and wore it rather long, parted on one side and swept away from my forehead, dropping almost to my shoulders. I was travelling, and, like most backpackers, I was careful of how I looked: in a photo taken that day, I have a safari hat dangling on my back; a light cotton collarless Indian shirt with the sleeves rolled up to the elbows; a plaid bandana around my neck; lightweight pants with cargo pockets and zippers at the knee; washable sandals; a North Face day pack slung over one shoulder, with a water bottle in a side pouch. Inside the sack was a Lonely Planet Guide.
I thought that I would stay only a few days in Chengdu, but I did not say no to her. I asked her what she did and where she was living. A university student, of course, in her fourth year, and studying English – as in fact had I, having graduated two years before. "Oh", she said, "how nice; you also studied literature." She lived in the neighborhood behind the temple, with her parents and one set of grandparents, her father's parents. Would I like to see where she lived?
The Lonely Planet Guides were famous even then for the badness of their maps, but a good map would not have helped. The neighborhood was a fragment of old China, even then fast disappearing: narrow lanes that twisted according to some indecipherable plan; walls one story high, often broken along the ridge; arched doorways; courtyard houses built from grey brick; pitched tiled roofs with grass growing from the edges where the tiles overlapped.
We went through an entrance into a small courtyard, not much larger than the inside of a good-sized bar: in the middle, a small plot of flowers, and banana trees that grew higher than the roofline. "You can't eat them," she said, having read my mind, "they're tiny, very bitter". A few chickens clucked about, pecking at banana leaves and rubbish on the ground. The moment we walked in, it was as if a signal had been given: all the doorways, six of them, opened, and faces, wrinkled faces, appeared at the entrances.
"I have always had people around me" she said, after nodding and smiling to her neighbors. "My first memory is waking up terrified in my house – there was no one inside and I couldn't hear anyone outside. It was so I strange that I began to cry. I called out until my mother came into the room. Everyone was outside in the lane, watching a neighbor across the way. He was up on his roof, trying to coax a kitten that was stranded there. I was three or four."
Her house was the room. The compound had once been the home of a single family. Six families lived there now, each in one or two of the rooms. The room where she lived was divided in two by a curtain hung on a long bamboo pole. Her grandparents' bed was in the front part as we entered; in the back part was her parents' bed and, at the foot of that bed, lengthwise to it, and very small, was her own. In each half of the room, two chamber pots. Again, she read my mind. "I don't often live here now. During the school year I live on campus, in the dormitory. My parents hope to find a bigger house someday."
Then: "they must have gone for a walk. Let's sit in the courtyard". We sat on two low stools. My knees were almost at the level of my shoulders. I leaned my back against the wall; she did not lean hers. I looked at her again, more closely. She held her back straight, hands folded on her lap, but she looked very comfortable: chin up, breasts pushing against her top – they were not at all too small. Her shapely bare upper legs were horizontal, knees bent almost at a right angle; her equally shapely lower legs were crossed at the ankles. She had very small, finely formed, feet.
"I think", I said, "that I would like to learn a little Chinese". At that moment, two couples walked into the courtyard, one old, the other older. The four of them wore white blouses (the women's had a pale floral pattern), baggy black pants, and black cloth shoes with dark rubber soles.
She spoke to them in Chinese. They nodded to me, not unkindly, and went inside. "I told them that you are one of my new students, and that you are staying in a dormitory. Where are you staying, may I ask?"
I was in fact staying in a dormitory, at a hostel on a traditional lane something like the lanes all around us. "I have a private room at the Dragontown Youth Hostel."
"Oh, I know where that is, on a very old street. I have given lessons in the courtyard there. Do you like your room? Is it nice?"
"It is almost as large as your house" I said. "I usually stay in a dormitory, but lately I have been travelling so much that I decided to pamper myself". That night, I rented a double room. It was on the fourth floor, and furnished from the time when the hostel itself had once been the home of a wealthy family: a canopied bed high off the ground, a heavy chest of wooden drawers, a tea table, and a wooden sofa with large cushions. From the window I could see the tiled roofs and the courtyards of the neighboring buildings and the street below. My eyes settled on two artisans whose shops were simply places on the street itself: a bicycle repairman, tires hung from the lower branches of the small tree that might possibly shade him, should the sun shine, and a seamstress with an old-fashioned pedal machine, plies of brightly colored fabric on a bench beside her. I imagined Diana beside me, looking down at them with me.
My days in Chengdu stretched out to a month. We met only in the hostel courtyard. I wanted to find out everything about her; my Chinese progressed very little. She tried very hard to make me learn, with carefully prepared lesson plans. She had professional pride: I gathered that the money she earned helped support not only her studies, but her family. Her grandparents had been from the country; her parents had worked as nurses-aides at the Hospital of Traditional Chinese Medicine. She was the child of their middle-age (two sons had died before her). Everyone now was retired; it was easy to guess that the pensions were small. But her parents knew the value of education, and also the value of knowing English. They encouraged her in her studies, something that came easy to her, she said, since she loved to read of far-off places. I told her of far-off places.
Aside from that, I wanted her to do most of the talking. I after all came from a culture where the parents support the children, and was bemused by her situation. At last we agreed that she would talk of herself after we had finished each lesson, and that I would walk with her back to her home. Her life, as she told it, had been uneventful. As if to make up for that fact, she had read as many novels as any serious reader in the West (she had read a great number of books in translation even before her English had become fluent). She also knew the history of her city well, or so it seemed to me. She knew the various temples, when they had been founded, and talked of the differences between Buddhism and Daoism and Confucianism, indeed of the outlines of Chinese philosophy, with some assurance.
The way to her home led through what, even then, was a typical Chinese cityscape: bleak boulevards lined with nondescript high-risers and clunky rectangular concrete apartment buildings, some simply left raw and gray; some faced with smog-stained white tile, ("Whatever possessed the Chinese", someone said to me, "to think that the insides of Western bathrooms would make good exteriors here?"). Behind the great central square of the city – a large grassy rectangle, with just a few people lounging about – where once stood, Diana told me, until the Cultural Revolution, a governor's palace, dating from the Ming dynasty – there arose a colossal statue of Mao. He held his hand up, as if in benediction to the building of the new and the demolition of the old. Diana's quarter and the streets around the hostel were low-lying archipelagoes of ancient local life, surrounded, and soon to be swallowed by, a rising sea of sludge.
It was then I decided to make a map of her neighborhood. I wanted to know how to find my way in it without her, to find myself moving with ease amid the literal pattern of her life. We often walked for some time there, before she would go inside. Each night, for several days, back at the hostel, I added details to the map, noting a building here, some other landmark there. Soon enough, it was done.
At first, after dropping her off at her compound, I walked with the map in my hand; soon I could walk without it, carrying the streets in my mind. Chengdu nights are rarely beautiful, owing to the near-constant cloud cover, but I came to prefer them to the days, since night, at least, is supposed to be dark, and the humid air was cooler. And night drew a veil over the decrepitude of the buildings. I could see them as if the life they expressed was pristine. I wondered how pristine was the life of Diana.
One day she arrived at the hostel, dressed as she had the first day that I met her. She was carrying something beneath her arm, a worn cardboard box. She said that she knew I would go away in three days. If I wanted to know more about her, well, I could look at the contents of the box. "But not in the courtyard. I would be embarrassed if someone should happen to look on".
We went up to the room and sat on the sofa. I offered her oolong tea, filling two tall glasses with hot water from a thermos. It was even then the tea I liked best, for the way the dry pellets unfolded into undulating leaves in the water. We watched in silence as the leaves began to unfold and take shape.