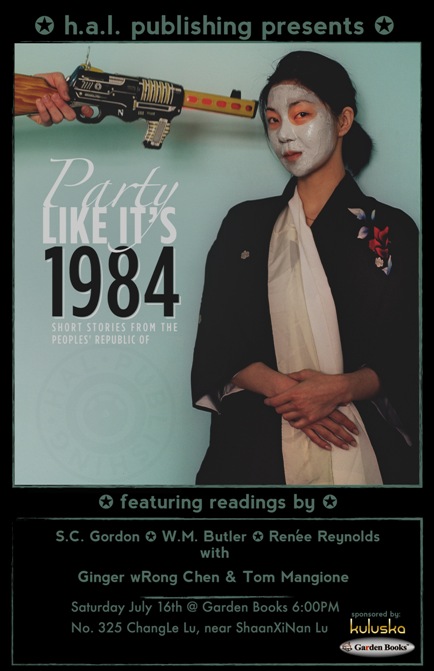 All you HALites and literary types are welcome to attend the first ever public readings from party like it's 1984 at Garden Books this Saturday, July 16th. Come enjoy the literary clout of Ginger wRong Chen, S. C. Gordon, W. M. Butler, Tom Mangione and Renée Reynolds. If that isn't enough, you get to be involved in a Q & A with the authors, there will also be a meet and greet afterwards. And an opportunity to get your book signed by Shanghai's finest. If they like you (easy – buy them a drink, or better, ten. That's what we did).
The evening starts at 6:00PM, so be there or be a geometric shape that is totally uncool. Don't suffer being made fun of by hexagons, pentagons and trapezoids, don't be left out in the sweltering Shanghai heat! Get there early and enjoy the soothing surroundings of Shanghai's premier indie bookstore. Buy a book (preferably ours), a coffee or a gelato and relax. Anyway which way you slice it, it's still yummy, buttery toast!
Admission is free but the price you pay for missing this event might just be your soul!
Note: Seating is limited so RSVP to garden_book@yahoo.cn or 5404 8728
Special Offer: 40RMB gets you a coffee and an ice-cream!
Don't know if hot or cold stuff helps keep you cool? Try both or enjoy the complimentary wine while supplies last.
Saturday July 16th @ Garden Books 6:00PM. No. 325 ChangLe Lu, near ShaanXiNan Lu