by D.
Downtown Las Vegas36° 10′ 8.8716″ N, 115° 8′ 25.5264" W
Date: June 21, 2010   Time: 4:30 pm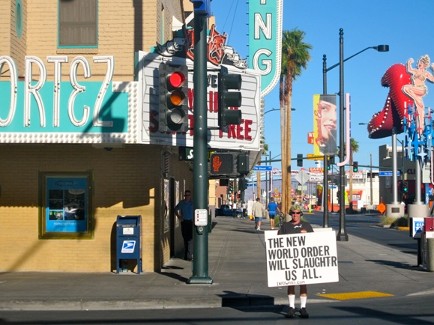 Inside, coffee shop. Outside, desert filth. The Okies had the Dust Bowl. We Lost Vegans get the Dirt Bowl, and it is this valley.
Dirtball. That is me: I'm grit-coated but sheltered by central air and good music. Coffee aroma and hipsters surround at other tables. The summer city is tough and sleazy, a neon and pavement oven electric, sandblasting us all with what must be economic decay. Granules of the End of Times. The air was not this sandy before the recession. It was hindered and frozen, paved over and tamed by progress and prosperity, but the desert must be reclaiming the concrete ghost town edges. This is the most abandoned town in the United States. Nature never takes long.
I am alone with myself and my little white laptop inside this downtown coffee house. I have seen a few friends today. They left me alone because I told them I was working, and I was, and I am. None of my friends have complimented me today. No one gets my plaid one piece romper. I look like a polygamist toddler with pretty legs and mascara. Fuck them. They'll all have one next year too, even the boys, even though mine is second-hand. I'm a firestarter. I'm on the phone with my editor telling him that I cut a whole paragraph from the story by accident and am devastated he didn't notice. I'm scattered, I go outside to smoke and my lungs fill up with sand and beggars. I come back in and suck foamed milk off my tiny spoon.
The view across the street to the old El Cortez Hotel and Casino's entrance is not of Yesterday here at this epicenter, Fremont and Sixth Street. People used to dress classy in Las Vegas and I'm scowling down my stylish nose at the tackiness when realize I brought my camera. This will make a fascinating photographic study, especially that homeless man rubbing himself over his sweatpants while trying to catch my eye through the plate glass, and the newlywed girl wearing her ill-fitting bridal gown across her funeral hearse of an ass. Wearing her dress down Fremont Street. Nuptial dreams, hem dragging through a derelict gutter as she crosses the Sixth Street crosswalk. The tacky tourists are looking for the gift shop, the free Mardi Gras beads handed to the masses by  lackluster young women posing as showgirls up and down the lane at the mouths of casinos. I go full force bourgeois. I'm full of it today, but underneath the depression I'm soft with love for this town too, and want only to see some good luck blow down the street, something to ease this sense of Detroit-style desperation. I want more for that pervert homeless guy, more for all of us. The man is walking closer, licking his chapped lips. I guess he gets my plaid romper. I turn in my seat so I can't see him and save this mess for you.