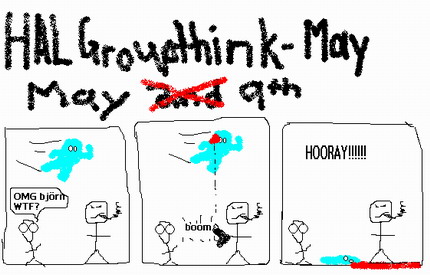 Ni hao Shanghai. Are you happy like me?
Things are hotting up in anticipation of the Expo and I for one am excited! This year's theme is 城市,让生活更有美好. For those of you who don't read Chinese it translates roughly as "Welcome to the eighth circle".
As is natural in the lead up to these kind of things, the citizens of Gotham must be kept safe from the evils of electronic music, cheap drinks and dancefloor make-outs with strangers. Accordingly the Shelter is being shut down and rumblings indicate the fate of Yuyintang will be uncertain in coming weeks.
Municipal authorities detained bored expat housewives and their Filipino nannies at a writers' meeting held in one of Hongqiao's many gated laowai communities last week. Fortunately the arrests did not leave any expat babies without childcare as the Chinese assistants to the Filipino nannies were able to temporarily care for the city's most precious resource. Replacement Filipino childcare workers were quickly brought in from Windows Scoreboard and I Love Shanghai, ensuring none of the children were overly traumatized by the ordeal.
There are unconfirmed reports of counter-revolutionary knitting circles being broken up around the city and HAL advises readers to take care when congregating in groups of more than three or four individuals. Make sure to have your passport on you at all times.  Do not leave the house until 2011. If you get hungry you can call the laowai relief center at 6209-6209.
To celebrate Expo weekend, HAL will be postponing our next official Groupthink to May 9th. The theme: illustrated writing. Do what you will with the theme. For more details  or to RSVP email editor@haliterature.com. See you there.
There will be an unofficial Groupthink on May 2nd, during which the founding editors of HAL will be getting drunk on Ray/Jerry's Velvet Hammers from 4pm onward and maybe talking about writing. Google our email address for more details.