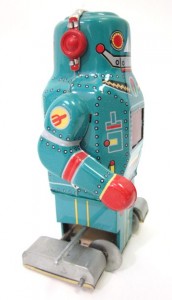 "Roderick Stahl 1-579, come on down!" The brightly-painted Gary George 536 cried, voice amplified automatically by his built-in microphone. The contestant jumped in place with a clatter, his paint job still gleaming wetly. He ran down the aisle to the lower stage, soft metal bangs sounding as his hand-analogues slapped other hand-analogues. Jim Roddey 95 spread his hand-analogues wide, greeting the newcomer with his trademark smile.
"Welcome, Roderick! Our next item up for bid is…" As Amanda 1-634 rolled out the prize, everyone oohed. It was a multi-part gift set, including a personal audio/video system, a free paint job at Old Sal's Paint Shoppe, and a set of automatic wheels.
"15,045," said Roderick.
"7,365!"