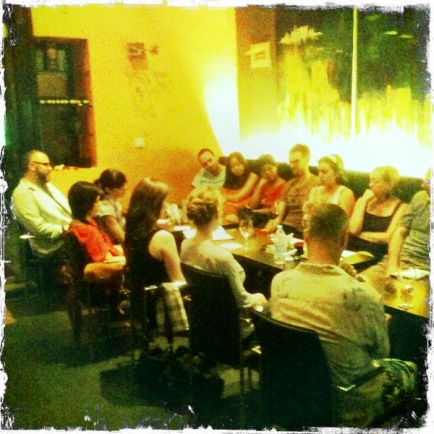 We write stuff. That's what we do. We write and we read and we discuss stuff. That's what Groupthink is. This week though we decided to go a different route. The route of our forepeeps. We wanted to get our olden timey on and do the whole "sittin'" by the fire telling tales thang", and so we did. But HAL style.
Instead of a camp fire we sat around a table laden with cheep booze, getting hammered and chain smoking cigarettes of questionable authenticity. Yup, twenty people crowded around the tables at Crocus telling true tales. Real live stories! None of that fiction crap the kids are so crazy about these days. So sit back and enjoy these recordings from our evening of storytelling.
Oh, and just when you thought it couldn't get any sweeter HAL is putting together the first ever Storytelling Event in Shanghai this coming October! We are looking for Storytellers, Musicians of all kinds along with Artists, illustrators, painters  and digital artists to join HAL in putting together an event that combines all these elements in a celebration of storytelling. Interested in joining? Email us at butler@haliterature.com
Click on the links below to listen to Groupthink live storytelling!
David Hampson: Declare Your Pork Pies
Kitty Harlow: Mum, Dad, an Arabian Prince and an unspecified amount of Cocaine (We withhold, for now, from you this brilliant piece, it will instead be performed live in Shanghai soon by beautiful Kitty, stand by for updates on HAL events).
Check out more Groupthink storytellers.